Who can vote?
When is the vote?
Where will it be held?
Who: All registered voters of the
Mamakating Library District.
When: Tuesday, August 27,
between 12:00 and 8:00 p.m.
Where: Mamakating Library
Vote on Tuesday, August 27, 12-8 p.m.
Trustee Election
Two trustee positions will be on the ballot.
Patricia Andersen and Pam Rice are each running for one seat.
This annual proposed operating increase will help cover the added expense of the NYS minimum wage increase, as well as growing insurance and technology costs.
The proposed 2020 operating budget + debt service cost averages an annual increase of about $4.67 per Mamakating home (based on $100,000 assessed value).
Mamakating Library Mission
The Mamakating Library provides quality materials,
services and programs which fulfill educational,
informational, cultural and recreational needs of the
community we serve in an atmosphere that is
welcoming and respectful.
Recent Highlights
+Reduced late fees
+Opened later on Fridays
+Launched Libby app– ebooks
+Launched hoopla– movies, ebooks,
music, comics
+Rotating art works by Wurtsboro
Art Alliance members
+Collaborated on programs with
Chase Elementary School and
Basha Kill Area Association
2018 Statistics
20,500 visits
3,300 registered borrowers
160 adult programs
160 children's programs
70 family programs
3,500 total attendance
27,000 items circulated
2,500 e-items borrowed
For less than the cost of one book or DVD, we can continue to
provide you and your family with the myriad resources, programs
and services that you have come to depend on throughout the year.
AUGUST 27: YOUR OPPORTUNITY TO SUPPORT YOUR LIBRARY!
Look what you save when you use library resources and services!
To determine how much you save when you use the library, estimate how many of each item or service you use annually.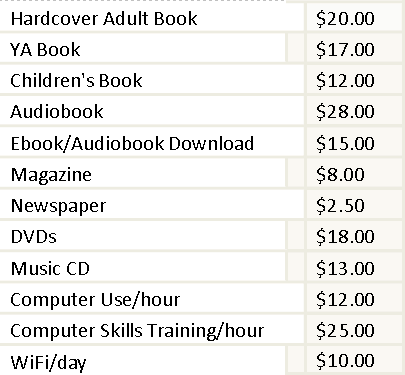 Average costs of library materials and services if you were to purchase them, based upon average costs on Amazon.com (2019), news stand prices for local newspapers and magazines found at the library, WiFi use on American Airlines and other sources.